From PHOTOWORKSHOP.COM


Education and Inspiration
Why You Should Still Hire a Professional Photographer
By Ginny Felch
Apr 17, 2012, 06:11



As a Master of Photography, awarded through PPA, I am very aware of what it takes to be a skilled photographer. After studying with many of the best contemporary photographers, I understand the value of seeking knowledge from the best of the best. I can attest to the money and time spent to refine and redefine my skills and creativity.

But this is not about me! In the last few years, the value of a fine photograph has seemingly decreased. Everyone IS his/her own photographer and spontaneity seems to be the state of the art.

I'm not saying "Bah Humbug," at all! I am wildly involved and enthusiastic about all the newest technologies and ability for everyone to make a good EXPOSURE. That in itself is creative and fun, and involves just about everyone who wishes to dive in.

I want to just make a point about why spending a little or a lot of money to invest in a portrait by a tried and true professional is important and worth it.

A professional photographer is NOT
*Someone who just got a hot new camera
*Someone who loves Photoshop
*Someone who gives away her/his work for next to nothing
*Someone who has gotten some compliments from friends about pretty photos she has taken
*Someone who gives away JPEGs for your Facebook page

A portrait photographer takes pride in her work and spends money and time to study and learn all the old and new skills required of a great photographer.

Do you like to eat where a good chef cooks? Do you go to a good dentist and doctor to assure the best health? Do you spend money on cafe au lait every day for a tasty jolt?

Perhaps by any standard, hiring a portrait photographer is a bit of a luxury and an elective expense. However, down the road when your children and grandchildren look back, they will appreciate your taking the time and making an investment in their family genealogy and heritage.

Don't mean to sound like your grandmother who walked through snow to school, but my home WAS destroyed by a fire and the portraits were the greatest loss.

I always chuckle when people complain about spending lots of money for wedding photographs, when they don't wince at what they spend for clothing, flowers and food. Everything disappears immediately after the wedding except the photographs and the memories.

How many times have you heard about someone getting a real deal and hating the results? It is tragic. A professional photographer will not let you down. His reputation depends on it.

A portrait photographer worth their weight in gold will:

Be an artist in their own right

Be able to create a FAMILY portrait that will hold its value and integrity through generations. You can't even BEGIN to do that unless you are ambidextrous and have a tripod and self-timer.

Have the kind of personality and psyche that will EVOKE comfort and natural
expressions.

Allow you to remove yourself from the equation as a mom or dad who is always popping out a camera, thus eliciting surprising, natural and spontaneous expressions.

Know about dynamic composition

Know about SEEING THE LIGHT and make use of it

Make you look as good as you think you look or better without looking like a plastic rendition of yourself. That "disease" is spreading like wildfire.

Have a great relationship with their lab to insure the highest quality archival print.

Staying up with the times doesn't mean eliminating values from the past. Of course you want your photographer to stay current on trends and technology, but what is most important is their VISION and skill as an ARTIST.


---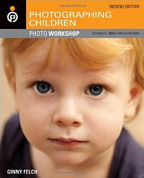 Ginny Felch

received a Brownie camera as a child
and her fascination with photography was born.
She has earned acclaim for her children's portraits,
several outstanding exhibitions, lectures, and magazine
photos. She has authored 2 books on

Photographing Children








photos and text (c)Ginny Felch 2012


© Copyright by PHOTOWORKSHOP.COM